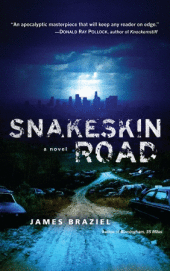 The Georgia Center for the Book has named Snakeskin Road as one of the books all Georgians should read for 2010.  Snakeskin Road has also been shortlisted for the 2010 Townsend Prize, longlisted for the 2010 British Fantasy Awards, and is one of Locus Magazine's Best of 2009.
From the publisher . . .
In this powerful and moving new novel by James Braziel, author of Birmingham, 35 Miles, a woman begins a harrowing journey of survival along a passage of terror—and hope.… They call it Snakeskin Road. An ever-changing network of highways, rivers, and forgotten trails, it's used by profiteers of a grim new traffic in human cargo. The catastrophic climatic changes that transformed the Southeast into a vast, inhospitable desert have left its desperate inhabitants with no choice but indentured servitude. Jennifer Harrison is among those destined for the farms, mines, casinos, and brothels of the midwestern "Free Zones." Carrying the unborn child of her deceased husband, Mathew, Jennifer hopes that in three years' time she'll be free to reach Chicago—and a world better than the one she is leaving.
Along with a thirteen-year-old refugee entrusted to her care, Jennifer begins a hazardous pilgrimage across a countryside of barricaded city-states, lawless camp towns, marauding gangs, and what's left of a corrupt government. But nothing she faces is more dangerous than a man named Rosser—a ruthlessly opportunistic bounty hunter determined to bring her back to Birmingham. In a world where hope is always a mile ahead, Jennifer has one last chance before the road disappears forever.
***
Click here for reviews of Snakeskin Road and interviews with James Braziel.
***
Excerpt from Snakeskin Road
(Jennifer and her stepfather Terry in Picayune)
As a child, the taste of dust had calmed Jennifer, and she would roll its familiar chalkiness back and forth on her tongue, refusing to spit like her stepfather, Terry.  "It's mud sucking," he explained often, spitting into the sink or the toilet or sometimes into his hands, wiping the brown liquid onto his coveralls.  In Louisiana and Mississippi, the dust was always brown.
"That's gross," she'd tell him, and examine the folds in her dress, the one ribbon, the sleeves, to make sure the fabric remained untarnished.  Her thick hair had always trapped dust, and every night her mother grabbed up long pulls and shook them before tying them into braids.  Jennifer touched the ends to make sure they weren't dipped in his brown goo.
One night when they lived in Picayune, he laughed and said,  "Better on my coveralls than in my lungs.  Why you keep all that dirt inside?"  She closed her mouth, just stared at his hands.
"Don't worry," he said, "I won't touch you with these."  He spread the palms forward, lumbered into the room, then followed with another clumsy stride and another until Jennifer ran out to get something, anything to hit him with.  She hated it when he tried to frighten her.
Steel flat cars worked best for throwing—Barbies had a tendency to veer at the hinged legs and shoulders.  But by the time she made it back to the kitchen, the laughing had switched to coughing and there he stood over the sink, gripping the metal rim, unable to spit.  That coughing, it sounded like he'd never stop, like he had no more air in his lungs to help.
Terry was tall, bowed through the center like a warped strip of metal, his spine never fixing right—sometimes, she thought, like the sun skimming the edges of the moon into slivers and quarters.  If he collapsed, what to do with him?  How would she possibly stretch him and raise him back up?  He possessed too many ungainly bones, too much coughing that made her feel tiny, just a girl, and not older like she imagined to be.  So she yelled for her mama, heavier and stronger, but in the bedroom with the door shut and locked, all the lights out.
Terry doubled over the sink, and Jennifer yelled, again.
"Don't bother Delia," he managed to say, the words coming out breathy with no force to them at all.  "I'm all right.  She needs to readjust.  You know that, Jenny.  I'm okay."  The coughing wasn't as hard, that's true, but it might be a trick.  He stood clamped onto the sink and swaying.
"What if you die?"  His face was soaked in red as if all the blood in him was trying to get out and couldn't.  Any moment he'd get even worse.  But there was one good thing—he couldn't get to her.  He couldn't scare her with his gross hands.
"Lord, girl, I'm not going to pass," he chuckled.  "All it is is a cough."  And the coughing eased up some.  He breathed good and full.
Jennifer lifted the torpedo, an Indy 500 race car shaped like a skinny arrowhead and flung it.  Usually, she aimed for the stomach because it didn't hurt awful to be hit there, yet enough of a hit that he felt it, that he knew what she'd done.  But this time, she flung it right for his head and hit him under the ear.  He had coughed for five minutes.
"Damn it, girl.  That one hurt."  He rubbed the place.  There was even a speck of blood.
"You can't cough that long."
"I can't help my coughing."
"Not that long," she told him.
He reached down, grabbed the torpedo, and flung it back.  The car cracked into the wall.
"You put a dent in it," she said. "You're going to wake her."
"Delia needs to be."
"I thought she needed to readjust."
"Not now.  She needs to see what kind of mess her daughter's up to."  The red in his face had changed, was pinker and cool, like he was controlling the blood, how it flowed, how it moved through the skin and under his short, short brown hair.  "She won't be happy."
Jennifer spotted the car.  She looked at Terry, then back at the torpedo.
"Don't—"
But she did and flung it and Terry ducked and this time the car sailed through the thin glass of the kitchen window.
"Shit," he said.  "Now we're both in trouble, Jenny.  Why—" But he stopped himself a second time.  A shuffling noise was coming from her mama's bedroom.  "You woke her."  He raised a finger.
"You did it coughing.  And yelling."
"Just get me something to fix this," he said.
"Like what?"
"A shirt, cardboard, something.  I got to cover this hole unless she finds it."  He leaned in on the broken frame, then swiveled around.  "Come on, come on."
So she went to her room and rattled open the drawer, scooped up her shirts, and carried the whole bundle to the kitchen.
"I just need one."  Terry wrapped it around his hand and punched out the remaining glass; the wind swirled, blowing in debris and light.
"Why don't you use your own shirt?" she suggested.
He grabbed up another one of hers, a pink one that she wore a lot, and another, stuffing them in the window like bricks until they fit tight in the square and the wind couldn't whistle through.  It looked as if the window had grown a colorful fungus, her clothes bulging and ugly.
"You think Delia will notice?"
"That's stupid.  Of course she'll notice."  There was a flushing noise—her mother still behind a door.  "When do I get my shirts back?"  She only had three clean ones left and needed them.
"As soon as I get this fixed.  You're all right today."  He glanced down.  "We've got to measure it," and he quickly traced his finger along the frame.  " I'll talk with Neil about cutting glass, or maybe plywood.  But that's it.  One square, you think?"
They looked at the fungus blob, and Jennifer nodded.  "One square," she said.
Then, "I can't help the coughing, Jenny.  Don't be so hard on me."
"I don't like it."
"I don't either," he sighed.  "Don't be so hard on me, okay?"
She wasn't about to utter okay or even give him a nod.  Then he started to rub her head, and she jerked back.
"I washed my hands," he promised, and put it back on her head and she let him.  But she didn't feel calm, couldn't bring herself down from all his noise, such a thin body, he wouldn't hold up.  He'd pass like Everett, and she'd loose another father.  So she rolled the dust around with her tongue and kept at it, focused, so she never had to spit, never had to cough.  Eventually, it wasn't his rubbing, it was the dirt her tongue clicked back and forth that made her relax, and allowed her to readjust.